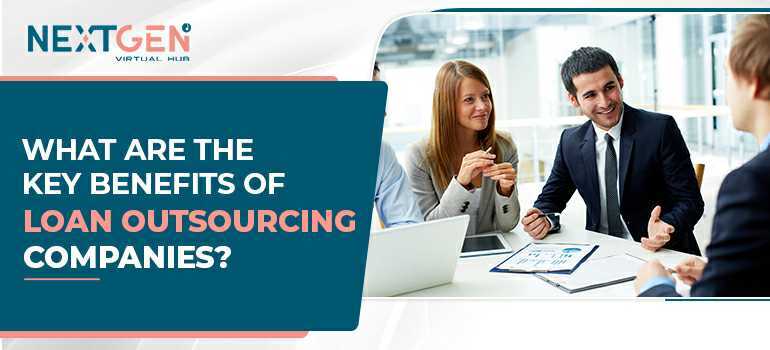 Not many will be aware of the fact that the loan mortgage industry is constantly changing and impacting modern-day lenders and financial institutions. Many factors like new regulatory compliance measures, high costs, updated technologies, and limited budgets have compelled financial institutions to look for seminal solutions to meet the market demand. We know many of you will agree with us on that. Isn't it?
Loan outsourcing has become a lifeline for businesses as mortgage processing is a big backbreaker that requires scrupulous efforts and much time. As a result loan outsourcing has attracted a larger customer base as it helps in managing demand in loan requests, normalizing cost per loan, and maintaining a loyal relationship with the customers. Besides, it helps brokers in reducing the burden in high-volume and time taking tasks in the areas of loan processing, accounting, post-closing, underwriting, title ordering, and examination. 
Having said that, it can be said that there is an inevitable need for loan outsourcing. Let's move further and learn more about the important aspects of loan outsourcing services. 
The Top 8 Benefits of the Loan Outsourcing Services!
Some of the best loan outsourcing services advantages include:
Lessen Turnaround Times–Several steps are involved in pulling off a mortgage and you never know when a borrower may opt-out. You have to understand that the outsourcing services don't eliminate this risk but they can pave the way for a decreased likelihood of a borrower opting out of a loan application. A loan outsourcing service that ensures a streamlined process and enhanced efficiency will significantly reduce your turnaround times.
Better Customer Service For Loan Brokers – Needless to say, customer satisfaction is the most profitable factor. Mortgage lending typically requires heavy documentation, piled-up resources, and immense working efforts. When you hire outsourcing back-office tasks, you can then have plenty of time to improve relationships with the customers. Meanwhile, the outsourcing company can focus on attaining business processes, elevating loan processing times, minimizing errors, and increased productivity that will ultimately contribute to better customer satisfaction & service.
Get Access to Big Data Analytics – You might be knowing that many of the financial institutions are now supporting big data analytics to cater to their customers in a much better way. But, there are still very few companies that can take advantage of big data analytics as it is a bit expensive. With outsourcing, you can enjoy the perks of big data as well as of the drive analytics based-decisions in pricing models and loans which would eventually lead to increased business profit margins & overall client satisfaction.
Get Entry to The Latest Digital Technology – Modern digital techniques & approaches enable business operations to run evenly. However, upgrading the whole digital infrastructure can be quite overwhelming & pocket-burdening.
Nominal Overhead Costs – Financial institutions that decide to themselves run every bit of loan processing find the strategy extremely tiring and time-consuming. They have to hire and train a team, pay them the service charges, and also acquire the equipment that is required for the job. Talking about the mortgage outsourcing service providers, they either decrease their fees or customize their fees based on the broker's requirements. Since they have a load of experience, this will ultimately result in staffing and infrastructure costs.
Ensuring Security – The smaller financial companies sometimes struggle to ensure security as it usually requires heavy investment and infrastructure to do that. With loan outsourcing services, even smaller companies can achieve higher levels of security for them.
Saves Time – Lesser-known is the fact that loan mortgage services incorporate certain tiring tasks such as accounting, tax monitoring, investor relationship management, payroll processing, and underwriting which are quite time-consuming in reality. On the other hand, with loan outsourcing services, you can have plenty of time to work dedicatedly on the main focal areas such as customer experience, product strategies, business development, managing compliance risks, and employee engagement. It helps in an internal productive workflow.
Rationalized Processes with Holistic Approach – Outsource loan processors are highly qualified professionals and that goes without saying. As a client, financial institutions and brokers gain heaps of support in promoting stability & security in a crystal-clear manner.
In a Nutshell
By now, you must have realized that loan outsourcing has become a vital part and has left some room for brokers to concentrate on their focal areas of work. If you are also thinking of outsourcing for your business, then you can come to Nextgen, a loan outsourcing provider company that helps in funding loans and striving to overall bettering the user experience.