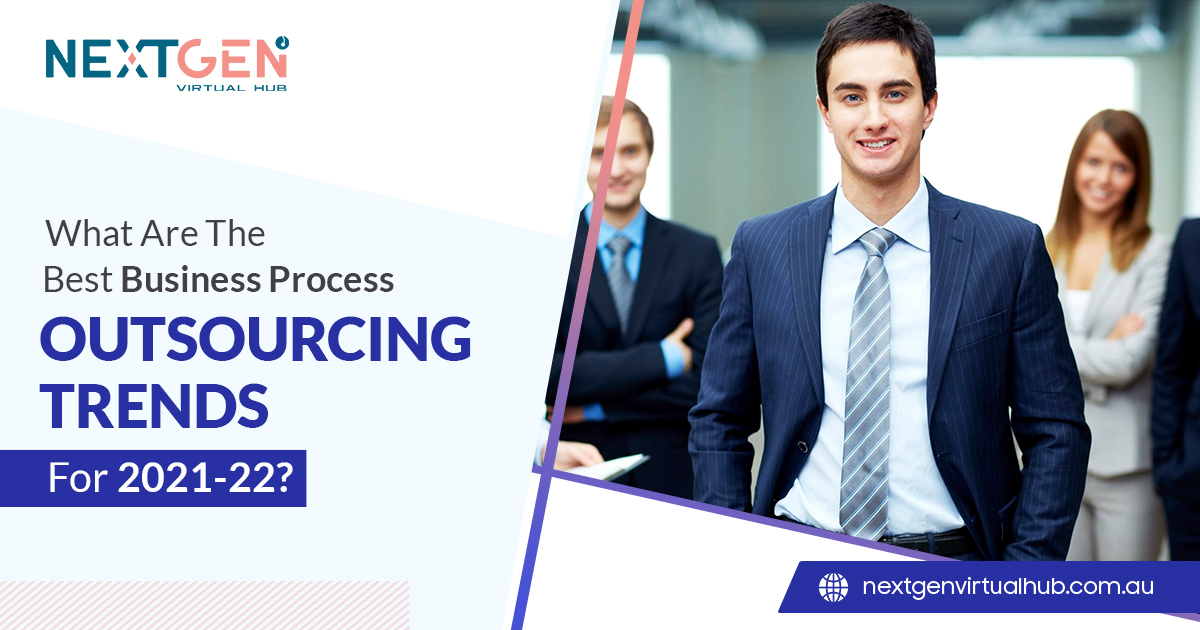 Are you aware of the market capitalization of Business Process Outsourcing companies? To your surprise, the global BPO industry in 2018 was assessed at $85.6 billion that climbed to $92.5 billion in the very next year. The BPO industry saw a dip after in between but is now estimated to be at $104.6 billion. Isn't that huge?
It is. You must know that more & more companies are now choosing to hire Virtual Assistants as they will be able to free up some time and focus on their essential business chores. Hiring them is a great deal, be it for any type of company. With the rise in the industry, there are some emerging trends in the industry as well. In the below section, we shall discuss the supreme business outsourcing services trends in the current year. Without wasting any more seconds, let us get started.
What Are The Dominating Business Process Outsourcing Trends in 2021?
One of the major reasons for the outsourcing uprising is the emergence of the COVID-19 pandemic. The pandemic has pushed business's across countries to opt for Outsourcing their non-core tasks. The learnings will reflect heavily in the way industries and organisations outsource processes.
Remote Working Compliances Become Key Differentiator- COVID-19 hitting so many times, one after another with no strain has made businesses realize that 'remote working is now the new normal. Not only organizations but BPOs are rushing towards the newest reforms. Governments of different countries have brought up certain focal changes in their data sharing norms. Besides, companies are choosing BPO services that offer robust services whilst ensuring compliance at remote workstations. Many varied industrial leaders have proved that it is possible to authorize employees to work from home without any persisting risk of breach of customer data.
It Helps Businesses Go Supple- With bigger organizations reducing their direct recruitment of employees, the BPOs are on an edge. The outsourcing of repetitive and less important tasks have directed companies to focus on the most critical tasks of their organisation. Moreover, the compliances like that of an ISO family has made it significantly easier for companies to trust BPOs. Having said that, the data safety measures by the outsourcing companies have also injected confidence. In COVID-19, businesses wanted a smaller team but working with a small team was a real challenge and this is where BPOs fill the voids.
Take Over Of Digital Solutions- In these COVID times, the unicorn startups like Airbnb have started onboarding their business. BPOs have now started leveraging their already onboarding paradigm to help food and hospitality startups onboard new and competent players for the future. Not only now, but also these platforms can emerge as preferred platforms once things are even back to normal.
BPOs Will Set New Frontiers- BPOs can open new frontiers as they can benefit the bigger organisations by taking off their work stress. Secondly, they are authorized to hire the best employees from across the globe. The best talent is just a call away. With cost-savings, larger giants are probable to experience some cost benefits that will make outsourcing a lot more captivated. Besides, BPOs are now more vulnerable to follow that employees are now more well-educated and are available at a reduced cost. Sounds great?
More Emphasizing On Customer Satisfaction- Once organizations and industries are now free with their non-core tasks, they would finally start focusing on customer experience management. Earlier, industries were not able to devote their time to customer satisfaction as they were so occupied with those less essential tasks but now the case has completely turned upside-down.
What Is The Future Of The BPO Industry?
You might not know that many researchers through varied surveys have estimated that the BPO industry will continue to grow at 8% till 2025. This growth will be a result of the removal of trade barriers and the introduction of new economic policies by giant economies across the globe. The BPO industry is on a continuous rise and is equipping itself with the newest technologies and futuristic problem-solving competencies.
You might know that in the coming times, India and the Philippines will lead to being flag bearers as well.
In a Nutshell
COVID-19 doesn't seem to be going and there is a continuously increased demand that makes enterprises give a shot to every option. With exceptional & remarkable skills and competent manpower can change the game in your favour. With this one big step, you can sustain yourself in the highly competitive market and can lead towards success. Having said that, BPOs will also be under enormous pressure to ensure an advanced level of data security when giving remote work to the employees. But the above-mentioned norms will capacitate BPOs to focus more on client's servicing and business's profit margins.
Also Read: Complete Guide To Business Process Outsourcing In 2021